Fall 2021
Let's face it, many of us saw this past year as an opportunity to remodel their home. For some, it was a simple rearrangement to accommodate all that time spent inside, while others went all out and opted for extreme renovations. But regardless of the magnitude of the changes, have you noticed the omnipresence of natural materials and vegetation in the "after" pics? These little nods to nature are no accident. One of the biggest trends lately, and certainly one of the most beneficial, is the integration of natural elements into your decor.
Nature, such a fabulous remedy.
Maintaining a contact with nature contributes to our well-being. Several studies have shown that being surrounded by natural elements helps us reduce our stress levels and prevent fatigue. Creativity comes more easily, and we simply smile more. Nature has a calming effect on us. Think back to your last hike in the forest, your walk in the park or the excursion through the tropical foliage on one of your trips. Replicating this feeling of wholeness in your home is not rocket science, and integrating nature into your decor allows you to create a soothing (or even stimulating) place.
How to integrate natural elements in your home.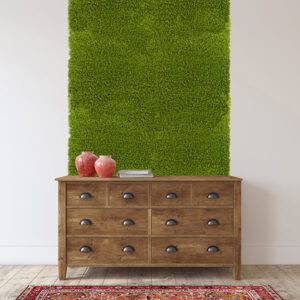 Start by getting a few plants to green up your window stills, draw the eye in your bathroom, bring a bit of joy to your kitchen and brighten up that little empty spot on your staircase landing. But careful: just like love alone doesn't pay the bills, plants also need water and different degrees of sunshine. But even if you're not renowned for being a green thumb, you can still do this. Just go for artificial plants. Choice won't be an issue, nor will realism. Get tall grass for example, to remind you of a green field. Exotic plants are also spectacular with their large leaves. And how about those cute little cactuses? Gathering a few on the window still will create a nice eye grabber. Now, feel a bit more adventurous? How about playing with foliage panels? The wow effect they create is worth a try. Especially when you know how easy it is. Just find yourself a wall, a little corner that's lacking pizzazz like above or next to your washer and dryer. Or how about an entire wall in your office or bedroom? Such a lush landscape is impressive, and will add a touch of luxury to any decor.
All in all, there is no shortage of ideas. And to top it all off, this pretty greenery will only require a quick wipe with a damp cloth from time to time. No watering schedules, or special care like repotting. Not even any complex strategic planning to find the ideal spot where each plant will flourish. You decide, and that's it. Connecting with nature on a daily basis by incorporating it into your interior is so simple. You'll reap the benefits, consciously or not, guaranteed.